Our dear daughter spent all last week at Piano Camp held at Samford University's Preparatory Music Department. It is an excellent program and each participant usually steps up a notch after completing the fun, but crammed full of music week.
Friday's afternoon concert was indeed a treat. DD already had a piece memorized for the concert. However, her teacher would not let her make any changes that a person with a natural ear (later on a gift for writing) will tend to want to make. These Un Music teachers/professors let her do what she wanted to the piece and she did! The arrangement was beautiful. She did play it like a race horse and missed a note. I noticed it. That is something we will have to continue to work on. Faster is not always better.
Her is my tiny little thing in her 'camp attire' on a huge beautiful concert stage play a huge concert grand Steinway Piano.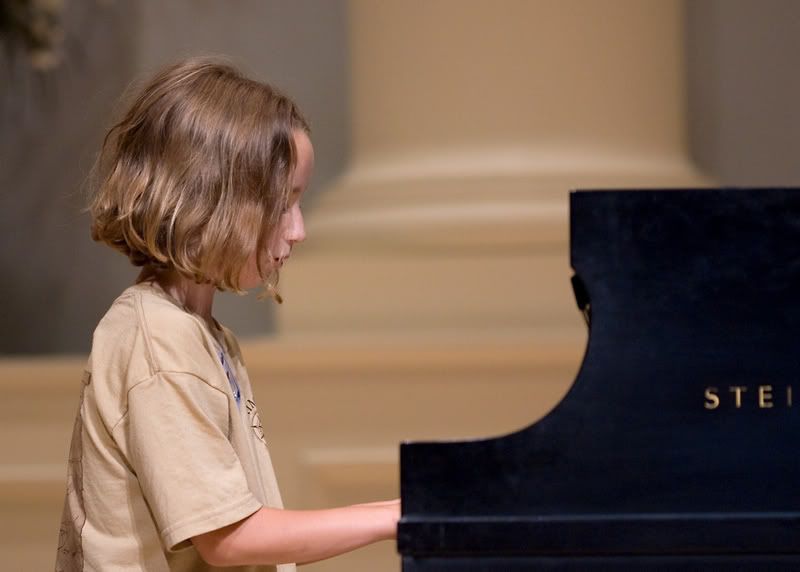 She was so nervous and excited, she almost forgot to bow when she came on stage. LOL!
Here she is with one of her fellow ensemble and one of her music teachers. This was the evening concert of ensembles. It was wonderful and such talent from so many young people!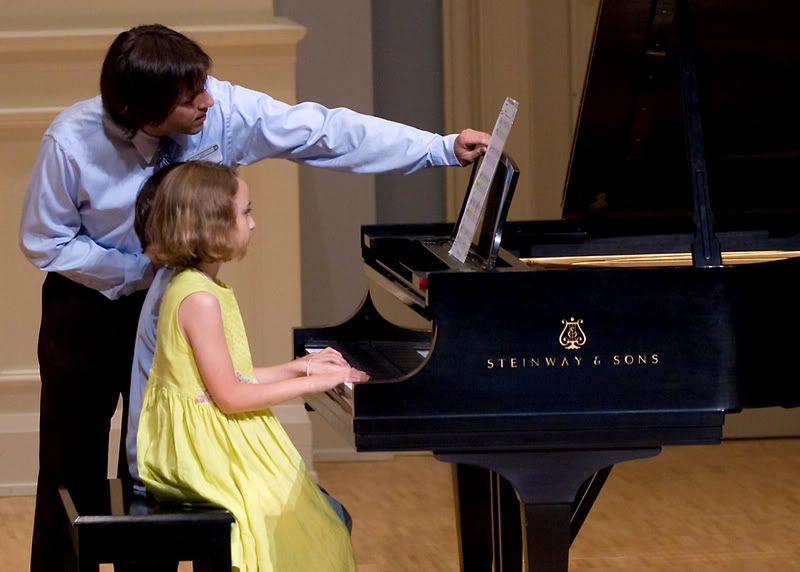 DD was in charge of the bowing when the ensemble came on stage and after they completed the number. She was so proud of that. Two other children were playing another Steinway Concert Grand opposit of DD and this little boy sitting next to her. They learn these pieces in just a couple of days and then work on perfecting the timing and technique. Amazing.
~~~~~~~~~~~~~~~~~~~~~~~~~~~~~~~~~~~~~~~~~~~~~~~~~~~~~~~~~~~~~~~~~~~~
Then we have BIRTHDAY!
Saturday a fun time with a small family cookout and presents. Since weight and calories is always an issue and we will be having plenty of treats on the actual birthday, I did not have cake or any type of dessert. Just fresh fruit and it was very good. No complaints from anyone! :-)
And of course, being in a family of photographers... no one is safe!
Papa-ratzzie!
My Father In Law taking photos of DD opening her presents.
The next day we have her friend party.....
10 Candles
Western/horse theme (no, we don't have horses, but like all little girls, she keeps wishing...) And afternoon of friends ice skating and fun!