I have reloaded some photos, removed some that would not load from the hosting site they were stored on and rewrote the S&T just a tad... But it is still all about smocking!
~~~~~~~~~~~~~~~~~~~~~~~

I hope everyone is having a great day today and looking forward to a wonderful weekend! The Lord is good to us. We are blessed in this house.

I was going to be lazy and show the handbag/purse I posted yesterday as my show and tell. But, Kitty commented in a very sweet post about my bag and requested to see some of my smocking. I did quickly find a few photos before the bus ran (and made/packed lunch while photos loaded!) I hope that you enjoy them!

DD Wearing Picture Smocking Designed by Laura Jenkins Thompson. The design is Laura's Scotties and she is posing with none other than Laura herself! I just love Laura! To learn more about Laura, click
here.
Another picture smocking plate by Laura. Carousel I think, but I cannot remember without looking it up.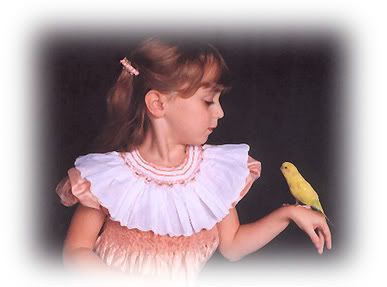 The collar on this dress is also an Ellen McCarn design. (The dress is also an Ellen McCarn Pattern.) The dress fabric is silk doupioni. The bodice of the dress is textured with 'backsmocking'. Our oldest male budgie, Tweety, is perched on DD's hand. He was young then and thought DD existed only for for his pleasure and entertainment. He adored her and loved me. He has a wife now. He still likes her, he still loves me. I am "Mommy"! He is and will forever be attached to my apron strings. Zoey is so jealous of him. ;-P

This is a sweet little preemie/burial gown set. I included my hand so that you can see how tiny it is. (I have very tiny hands, 4 -1/4 ring size...) It would fit a 1-2 lb baby. I think it was donated to an Atlanta or Nashville hospital at on one of the SAGA (Smocking Arts Guild of America) National Conventions.

This plate is picture smocking on a Mary Dee Dress pattern by Childern's Corner. (Laura's Scotties and Carousel Horses are also CC-Mary Dee's.) The plate is "I Love My Country" and I cannot remember who the designer is. But many many of my friends have made it and I copied their fabrics and colors. :D Imitation is the best form of flatery!


That is my Friday Show and Tell! I hope that you enjoyed it! If y'all like sewing pictures, I can bore you to tears with them. ;-) I have made tons of articles of clothing. The photos are saved on cd's somewhere. I need to watermark faces (of my child and my niece) before I post a quality photo of one of their faces straight on.

I look forward to seeing everyone's Show & Tells. Have a wonderful weekend!