I have been given the sweetest award! Carolyn at
Cranberry Crossings
has awarded me with the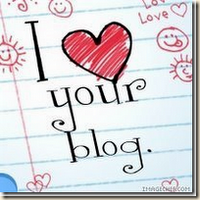 Award! Thank you Carolyn! Carolyn is busy decorating for fall. Please go by her blog and see all the beautiful things she has done.

Now I am supposed to pass this award along to 6 blogs that I love. That will be very hard to do b/c I love and visit so many!
The first two blogs that I will pass the award to I recently teased the ladies about it being their fought that "I'm blogging and I can't stop!" LOL! I love these ladies and have known them for years. Will be seeing one f them in 3 weeks when we meet up at Smocking Arts Guild of America Convention in Atlanta.
1. Martha at Southern Matriarch. Martha is fun loving, crafty and a fine seamstress. If you like embroidery, sewing, etc., check out her site. She has some excellent tutorials for Bullion Embroidery, Eyelets, etc., on her blog. Martha is also making lovely bonnet stands and dress stands. You will see beginnings of them on her blog right now, finished items later on this week.
2. Pam at Sew Gracious. I have known Pam, thru the internet, for years. She also belongs to Smocking Arts Guild of America. Her blog mainly features her lovely bags and accessories that she sells in her Etsy Shop. But she will also post recipes, write about gardening, sewing, crafts, etc.
3. Rhonda at ScooterBlu's Whimsy. Her blog is about her everyday life. It can be about her family, yard sale finds, lake parties, decorating, etc. Her blog is a lot of fun to go see every day.
4. Ramona at A Day in the Life of Ramona. She decorates, recycles, and has a lot of ideas on her site. I enjoy going there. (I am going to use that pine cone & $ store tiny gourd in a glass container she has on her blog. I like it!)
5. Nancy at Southern Lady. And a gracious Southern Lady she is. I love going to her site just to see what she has done, what house she has toured and taken photos of....
6. Kelli at No Place Like Home. Kelli's home is always warm and inviting. It smells like warm bread, fresh coffee and an extra plate set just for you. The first time I saw Kelli's blog was a couple of years ago. Someone posted one of her smocking projects on the Heirloom Sewing and Smocking Forum that I belong to. She had posted a basic square yoke dress that she had made for one of the girls. And I love her Friday Show and Tell, whether I get a chance to participate or not.
Ladies, feel free to pick up your award and display them on your blog if your feel lead. And thanks so much for your inspiration and kind words. They mean a lot!

Thank you Carolyn for the award and your kind words.

Everyone, please take a moment to visit these fine ladies blogs. :-)