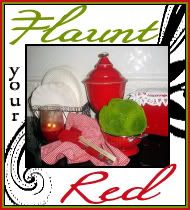 Good morning! Today is the first day of Flaunt Your Red Party and I wanted to join in b/c I have soooooo much red in my house! In fact, I just took a few photos and there is no real theme. Next time, I will be more organized. :D Thank you Nancy our special Southern Lady for hosting!
First, I want you to show you Zoey's cage. Just because she is a parrot does not mean she does not need style and glam!

I made this. DH's idea, my design. Looks much nicer than the store bought parrot cage covers. And very functional for cages with playtops. The colors go with the decor in my house and I think I have enough fabric left over for a pillow...
Zoey Girl needs a pedicure and her pedicure perch
just happens to be red and matches her cage cover... :-)
I found this tassel (I have a bunch of them, most of them... deep rich red... :D)
It is hanging on my china cabinet door.


The drapes in my Living/Great room and Dinning room are also a deep rich burgundy red. I love this color. If I told you how old these drapes are, y'all would laugh. But, when I go looking for fabric, new drapes, what ever, I do not see anything I like any better and what I have is in fine shape. I found them on clearance at JC Penny's about 15 or 16 years ago. I got the tie back thingys at the same time. When I like something, I usually keep it a loooonnnnngggg time.
I have 2 of these chairs. And more of this fabric. My mom made the striped pillow years ago. The gloved pillow I bought at Civil-la-Tea in Gettysburg, PA about 12 years ago. It would be easy to make for gifts.


Now I have to include a tea pot. I think I found this at TJ Maxx (Love that place!) and the reds in this are perfect for my home.
I hope that you enjoyed my reds. I sure enjoyed sharing them with you. It is a warm cozy, soothing color. Romantic and beautiful.
For more Red posts make sure to stop by Nancy's blog~
Southern Lady
.
Have a blessed weekend everyone and thanks for stopping by!
Hugs,
Melissa